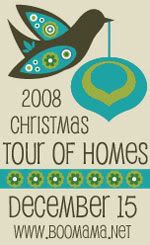 Welcome! I've decided to participate in Boomama's Christmas Tour this year. It's so fun to see how everyone decorates. I'm only doing two trees this year, as I sprained my ankle last month and I am on orders to rest it. So it's just the family tree and the Harry Potter Tree. I am a huge fan. I am adding to this tree every year so it's a work in progress.
We wish you and your family a very MERRY CHRISTMAS!
My Harry Potter Tree is in the Master Bedroom
This is our family tree in the LR
Saturday is our annual Gingerbread House Decorating Party. I will post pics once it is over. Until then, here is the recepie I use
The Best Gingerbread
3 x recepie
1 ½ C. butter
7.5 C flour
1 1/2 C sugar
1 1/2 C molassas
3 egg
1 T baking soda
1 T cinnamon
1 T ginger
1 T cloves
1 T cinnamon
Cream butter and ½ the flour, then add sugar, molassas, egg, baking soda, ginger, cinnamon, and cloves. Beat until fully combined. Stir in remaining flour. Divide dough in half. Divide into 6 pieces, roll in waxed paper and Chill 3 hrs. Roll out each section 1/8 in thick. Cut into cookies or pieces for house. Bake 375 5-6 min for cookies, or 16 min for larger pieces for gingerbread houses. If you are going to use for a gingerbread house, bake the pieces on aluminum foil, cool and then carefully flip over and peel off the aluminum foil. If you try to bake on a cookie sheet without the foil it will stick and break into pieces. This is a really tasty recepie for cookies as well.