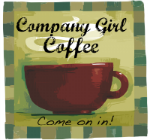 O.k. so I'm late by a day but I was very busy this week!
The small thing from I have chosen this week from Rachel Anne's
Home Sanctuary
is to reorganize my shoes. This was an easy one for me since I have all my shoes on a rack in my closet. I put the stray ones back on the rack and moved them around so the winter ones were on the top where I can grab them easily. I only allow myself to keep the pairs that will fit on the rack.
I also found the perfect pair of nursing shoes this week! They are Cherokee's and look a lot like Dansko's. I was relieved to find a pair that were tight enough in the heel and didn't pinch my toes :)