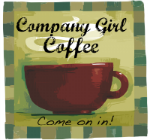 You may have noticed the Company Girl button on my blog. It's there because of Rachel Anne at
Home Sanctuary
Rachel's blog is all about the Small things we can do to make our home more of a sanctuary. Every day she gives us a Mission around our home. Sometimes it's something to clean, other times something fun to do with our family. We keep each other company in our quest to make our homes more peaceful and cozy. I have really enjoyed being one of Rachel's Company girls.
Her newest mission is Coffee fridays when we can share our blogs with each other. I decided to join in the fun :)
My favorite mission this week was to bake something from scratch. My kids really appreciated it :) We made chocolate chip cookies.
Chocolate Chip Cookies
1 C. butter
1 C. brown sugar
1 C. sugar
4 T. Milk
2 tsp vanilla
2 lg eggs
3 1/2 C. flour
1 1/2 tsp. Baking soda
1 tsp salt
2 C. chocolate chips
Mix. 375 9-11 min. or 20-25 min for bars.